First 20 Miler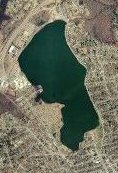 My first
20 miler,
in
2:26:00
(
7:18 average pace
), subtracted 33 seconds for waiting time crossing Main Street twice). Five times around my lake,
Lake Quannapowitt
— given the number of times I've run around the sucker in the past two years, I feel I really can call it
my
lake. A 3.1 mile circuit, 2 miles there, 2.5 miles back. Splits: 6:38, 6:34, 22:29 (7:15), 22:52 (7:23), 22:42 (7:19), 22:56 (7:24), 23:31 (7:35), 7:32, 6:48, 3:53 (7:46).
Dandy time until 11 or so, except for some issues with my right quad from about 3 to 8, tightness or kink or weakness or something, funny how it goes away after a while, beat it into submission I guess. And it was too cold! Thought it was supposed to get into the 40's today, but no such luck, mid 30's at best, wind whipping across lake though not as brutal as other times, was annoying.
Really working by 12 and couldn't quite maintain pace without risking the run, conventional wisdom sez I should be running way slower anyway, whatever. I was the Tin Man in need of an oil can for the last circuit, legs locking up, left ham, and especially those large ligaments (tendons?) behind knees/quads (
biceps femoris
?), feet started feeling tired, and buttocks even, new issues arise with each increase in mileage. But all aerobic, not breathing hard at all really.
Death march up the half mile hill on the way back, during mile 18, though it did feel good (not the right word) getting off the lake flats, changing stride pattern, and managed to brute force out a 6:48 final mile. Definitely getting stronger, form's getting better, feel I'm landing softer and evenly more consistently, even late in the game.
Tough, but not much more so than 16 miler a couple weeks ago, and recovered better, at least no digestive issues. Went right to my health club for some time in the hot tub and pool and a shower — our (only full) bathroom is being remodeled so we're without a bath/shower for the week. But a wave of fatigue came over me on the way home, collapsed into bed for over an hour. My legs will be sore tomorrow I bet.
This needs to get easier. It takes so much time, preparing, running, recovering, most of the day is shot, good grief I have a family afterall. What a self absorbing and selfish activity! I need to start this process earlier in the morning. Stayed up late-ish last night introducing my daughter (11) to one of my favorite movies —
My Dinner With André
; she fell asleep but enjoyed it, she loves the theatre and appreciated most of the conversation. J (8) watched for a bit too, he instantly recognized
Wally Shawn
as the dinosaur in Toy Story :-)
The best thing is, no shin issues! That I can tell. I'm still apprehensive about even probing with my fingers much, but for the first time,
ever
, I sense that they're only getting stronger now. And a 50 mile week, a new world record. Progress!
---
"A baby holds your hands and then suddenly there's this huge man lifting you off the ground, and then he's gone. Where's that son?"
— André Gregory