Hello, world!
Somehow I've got it in my head that I just might be able to run a marathon, maybe. Just to help keep my motivation going, I'll keep track of my progress here.
Today I ran
6.4 miles
on the treadmill. I've started something new, running 1 mile warm-ups and cool-downs. Conventional wisdom says I should always do this, but being a somewhat impatient fellow, I usually just do a quarter before/after. Not only is this the "right" way to do things, it's an easy way to increase my mileage. (Checked with the running gods, it's kosher to include warm-up/cool-down mileage in total logged miles.)
Thought sure I'd be on the elliptical today, but my legs/shins felt surprising okay, after yesterday's hellish 10.5 miles in the freezing windy cold. The route is 2M to the lake, around it (3.1M) twice, and back. The far side of the lake, with no trees was especially tough, the wind whipping me head on, thought my face was gonna freeze off. Plenty of ice on/off the roads helped to further stiffen my gait. Much worse than last weekend's 13.6 miler (three times around the lake - my longest run ever) which was also in the cold, and snowing, but not as bitterly cold.
Anyway, the middle 4.4 of today's 6.4 today was at about 7:10 average pace, too fast for recovery run, oh well (not far from yesterday's 10M 7:08 pace and last weekend's 13M 7:18 pace). If I feel okay tomorrow, I'll do a similar training run, probably in my
Nike Frees
. The shin (left) seems to be holding up okay, still some tenderness to the touch, inside, a couple inches above the funny bone, but seems no worse for wear, we'll see.
I really don't know if I'll be able to stick with this marathon thing, running is really hard sometimes! But I've been managing to keep it up now, pretty consistently, since April 2004. Ran over a dozen races, dropping my 5K race time from 21:14 to 18:09 and ran the
Hood to Coast Relay
last August, all on just 5-25 miles per week, not bad, I've come to learn - real runners seem very surprised that I do as well as I do with such puny mileage. I'm running almost as fast as my
high school
cross country days, 30 years ago! But I was such a slacker then. Anyway, thankful for how it's gone so far; I should have more confidence.
So, trying to up the mileage, become a real runner, hoping it'll make me noticably stronger, I want to kick my shin issues altogether once and for all. I'm over 30 miles for the past two weeks, and should be over 30 miles this week too, with my second 13 miler scheduled (looming) for this weekend — pray for decent weather! I'm really taking it on faith that following a standard marathon training schedule will work.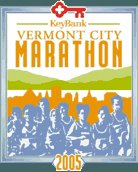 What I'm shooting for is the
Vermont City Marathon
on May 29th, I
hope
to
qualify
for the 2007
Boston Marathon
; I'd need finish in 3:30:59 or better, which theoretically seems do-able (according to the
McMillan Running Calculator
I should be able to do sub-3:00:00!), but I know actually doing it, training for it, week after week, is quite a different matter - a
completely
different animal from the 5K-
11K
races I've been running.