Beautiful Day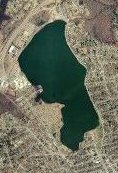 Finally a nice outdoor run, no snow, no ice, no cold, no wind.
7.4 miles, 6:29 pace
, 46:00 for the 7.1 to
Lake Quannapowitt
around and back. Too fast, of course, for a training run, but that's just what I do, nice weather, had to let loose. It's not quite my record though - that was 45:25, 6:24 pace, about a month ago - the same pace I ran the
Veteran's Memorial 11K
in - that's insane, I'm
racing
through my training runs. I'm not the only one who runs too fast most of the time, this guy,
Joe Navas
, wins lots of local races, says he know it flies in the face of convential training wisdom, but he never does slow runs.
I at least have actually started slowing down recently, had to if I wanted to increase my mileage for my first marathon training. Jeez, just looked at my log, last year at this time I was running just 1-3 times a week, but all treadmill tempos, 4-6 miles, 6:35 to 6:15 pace, I doubt the running gods would've approved.
Oh, I've been drafted, my brother-in-law invited me to be on his
Nike
Hood To Coast
team again this year. Yeah, baby! I hope he can recruit a couple more faster guys, it'd be sweet to beat
Powered by Google
; we were just 35 minutes behind them last year. We'll need to figure out how get me out to Oregon in August, Idunno if the family's up for another trip out there, might be just me this time.
I'm off now to a
pinewood derby
, J and I will rule! Well, with any luck the wheels will stay on anyway.